Pelagic Australis in The Falkland Islands 1 -15 April 2017 - A Tour of the islands' finest wildlife sanctuaries and places of interest by sailing vessel.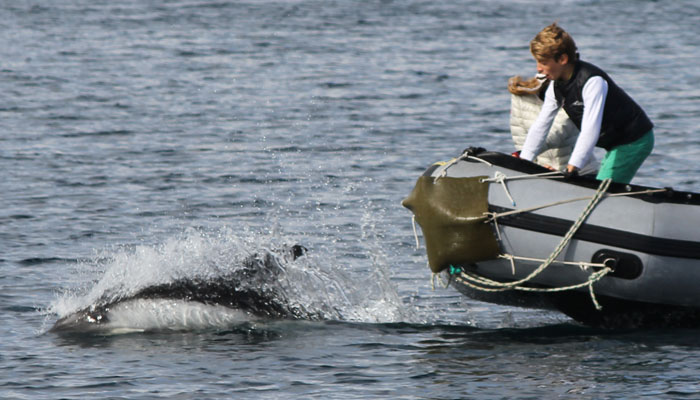 Wildlife up close in the Falklands
This tour, by sailing vessel, of The Falklands will visit the islands' finest wildlife sanctuaries, places of historical interest, including battlefields and wreck sites, and various settlements or 'Camps' as they are known locally. There are also opportunities to dive in the clear waters by prior arrangement. Fishing for the islands' famous sea trout can also be arranged seasons and cruise itinerary permitting.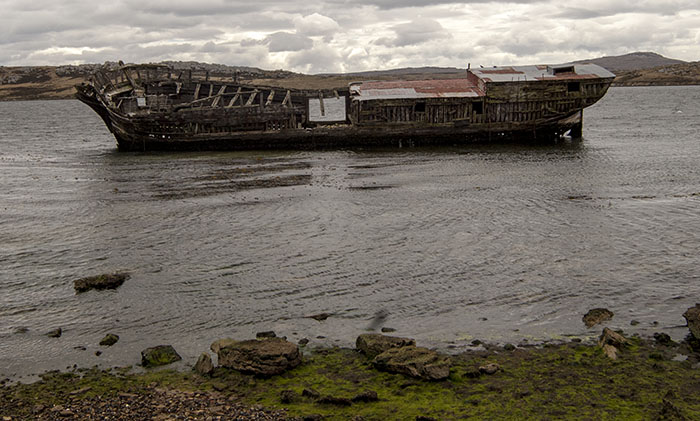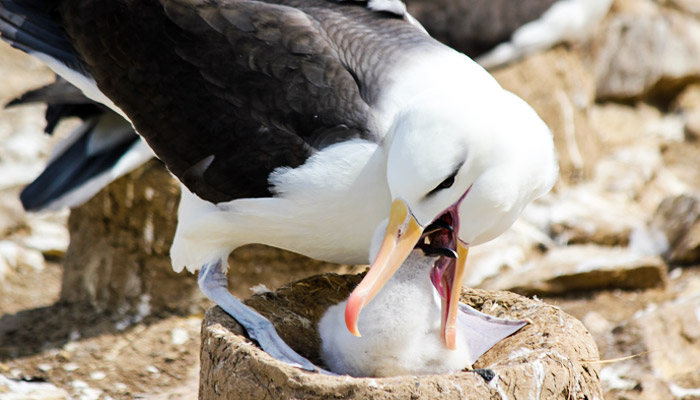 For the April 2017 trip we are planning a 14 day itinerary concentrating on the islands diverse and unique wildlife. See map below. Pelagic Australis can take up to 8 passengers for this trip and we welcome enquires from groups or individuals. Costs excluding flights have yet to be finalised but are likely to be about £5,900 per person which covers all in Falklands transport costs and all items such as food and drink, mooring fees, permits and fuel whilst on board except satellite communications. For some additional information on our Falklands destination see the destination page here>>
PROVISONAL ITINERARY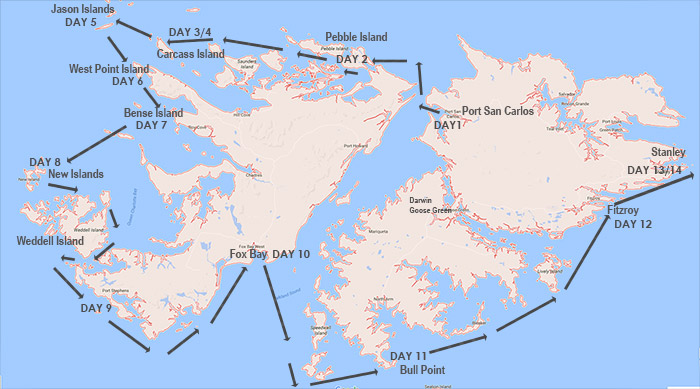 The provisional itinerary below is both weather dependent and adjustable to the wishes of the charter party.
Day 1: Arrive Mount Pleasant Airport. Transport direct to Pelagic Australis in San Carlos (46 slow land miles).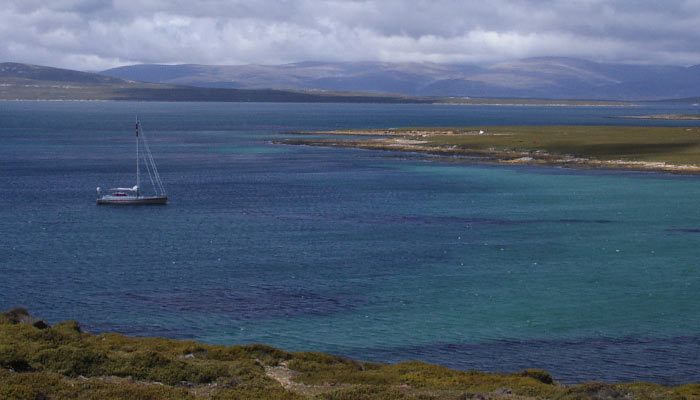 Typical Falkland Anchorage
Visit war museum and British cemetery. If weather is fine sail for night anchorage off Ajax Bay - settle in on board.

Pucara destroyed during raid on Pebble Island
Day 2: Sail for Pebble Island (excellent example of settlement life) possibly via Port San Carlos or Jersey Harbour

Day 3: Sail through Pebble Sound to Carcass (finest wildlife sanctuary) via Saunders Island (1777 Royal Marines settlement).


Carcass Island
Day 4: Carcass Island.

Day 5: Weather and tides permitting, sail for Jason Islands. Anchor off Steeple Jason. If fine, remain for night. (Finest penguin and albatross colonies.)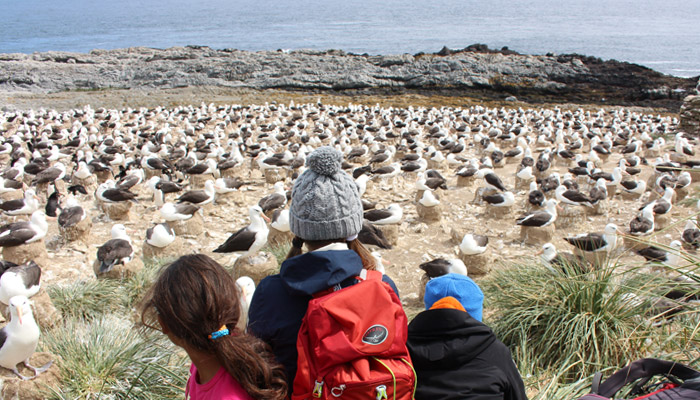 Day 6: Sail for West Point Island. Night stop. (Finest albatross colonies.)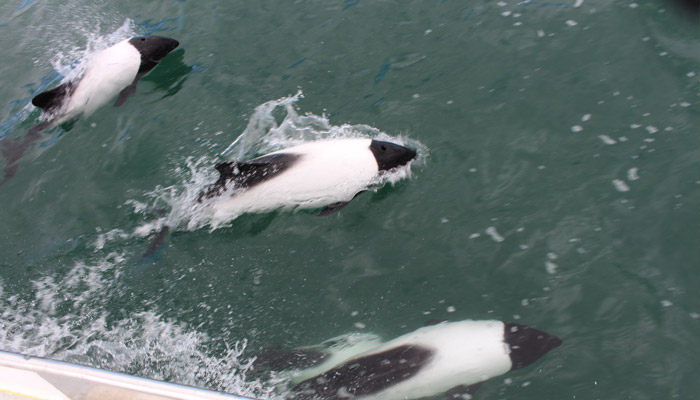 Day 7: Short sail to Port North Bense Island anchorage. (Fine beaches - possible dolphins and whales.)

Dolphins drawn by Ewen Southby Tailyour
Day 8: Sail for New Island. (Wildlife paradise and wrecks.)


Day 9: Sail for Port Albermarle via Horse Block Rock - south about Weddell Island. (Possible dolphins and whales?)


Day 10: Sail for Fox Bay (woollen and knitwear centres), possibly via Port Edgar (site of proposed anchorage for the Royal Family in World War Two - fascinating anchorage).





Day 11: Sail for anchorage at Bull Cove (penguins).
Day 12: Sail for either Fitzroy Settlement or Bluff Cove Settlement or if time permits: leave out Fitzroy and Bluff Cove and divert to Goose Green (wrecks and site of Argentine garrison and Parachute Battalion battle).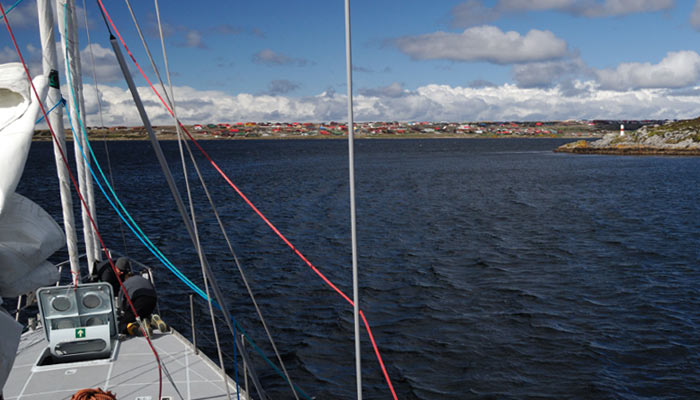 Approaching Stanley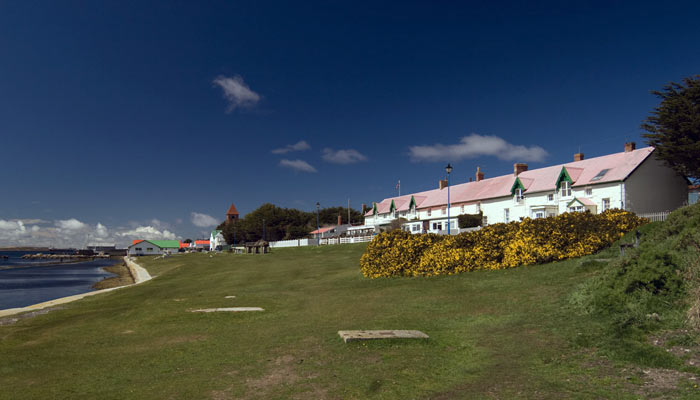 Stanley waterfront
Day 14: Overland transport to Mount Pleasant Airport
TRAVEL ARRANGEMENTS
Guests would either fly once weekly to the Mt. Pleasant Airport (MPA) on the East Falkland direct from the UK (Royal Air Force 747 from Brize Norton), or every Saturday from Punta Arenas via Santiago Chile on Lan Chile. They would be met on arrival and then take Land Rover transport either to the port of Stanley or by arrangement direct to one of the 'Camps' on East Falkland to meet either of the vessels. We strongly recommend that international return flights are fully flexible to allow for missed connections due to bad weather.
For more information on the Falkland Islands in general, see the Falkland Islands Tourist Board Website or contact: Falkland Islands Government House, 14 Broadway, Westminster, London SW1 HDB11. Tel: 44 (0)207 222 2542
Falklands Travel Agents
The Falklands are a specialist destination. Local agents to book your flights to Mount Pleasant Airport in the Falklands and arrange for transfer to the vessel once there are: International Tours and Travel LTD 1 Dean Street Stanley FIQQ1ZZ Falkland Islands +500 22041 tel +500 22042 fax se.itt@horizon.co.fk Contact: Sally Ellis
EQUIPMENT LIST
Equipment List 1 - For expedition cruises to Antarctica, South Georgia, Tierra del Fuego and all Arctic destinations.

See slide show below for a flavour of this cruise