Our Voyaging Style

By way of introduction a word about our style of voyaging and some factors to take into account when planning to charter from Pelagic Expeditions.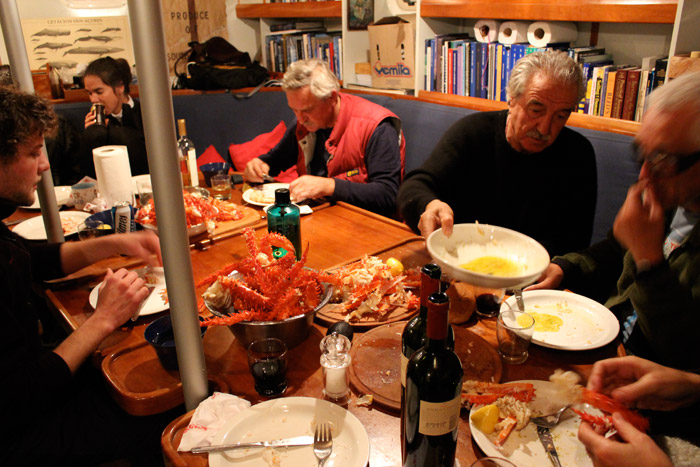 Our Style
Although the Pelagics are charter vessels, we like to think of our voyages in terms of 'expeditioning' rather than 'charter cruising'. The latter might conjure up visions of inactivity, rum and tonic sunsets and subservient behaviour paid to the guests by the professional crew.

Instead, our aim is give the crew (our guests) a sense of participation in all facets of operating a small vessel in a remote area. The following perspective is one I like to pass on:

"When you have to do your own dishes you're on an expedition, if not, you are chartering."

The vessels will always have a dedicated cook/mate, so if necessary meals will be prepared throughout, although everyone is encouraged to try their hand in the galley.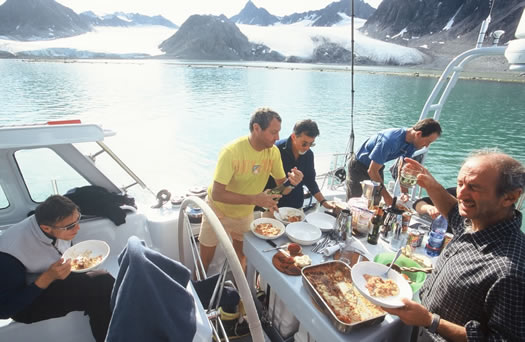 Crew prepared alfresco dinner
Washing up after meals, however, is taken in turn. On deck, everyone will be expected to do a bit of steering, sail handling and help with launching and re-embarking the dinghy. No prior experience is needed for any of these activities.

Both vessels are fully equipped for comfort. It is dry and warm below, there are proper bunks and spacious head compartments with hot water showers. We have a library and a good selection of music. In short, it is eminently suitable for expedition sailing in extreme environments.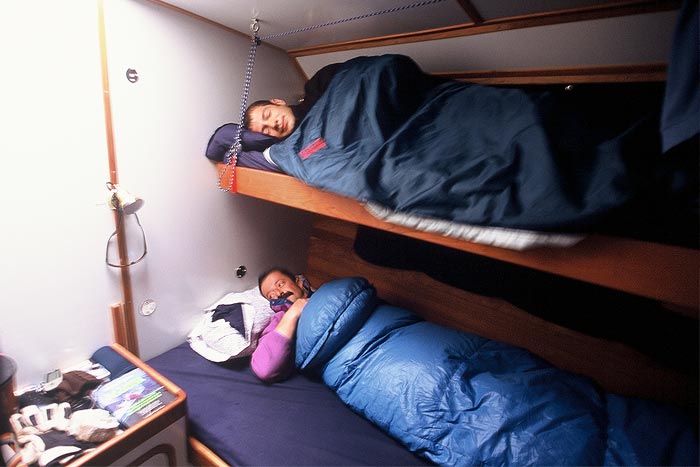 Accomodation on Pelagic Australis
They are not, however, luxury 'yachts' in the sense they have no varnish work or fancy stainless steel fittings on deck, nor hardwood veneer bulkheads below. One client recently complained we had no shaver socket in the head. Well, we probably never will! Our philosophy is simplicity. When you keep a boat mechanically simple, you spend less time with your 'head in the bilge' and have more time to enjoy where you are going.
A note about our water supply. We have 2500 liters of fresh water on Pelagic Australis. We do not have a water maker. Therefore water for showering is somewhat limited, but normally we shower every other day or so – you will find it is not necessary to shower daily in these cold conditions. Rather than make water endlessly via a water maker, implying running a generator endlessly to achieve that, we prefer to run 'quiet,' and resupply en route from the waterfalls in Tierra del Fuego or by collecting glacial run off from Antarctica – all part of our philosophy to use an available resource (requiring some physical effort and ingenuity!) rather than process it.

Planning and Organisational Responsibilities

We are principally a logistic and support service. Although we do offer suggested itineraries as outlined in the option pages, we are not a travel agent.

We can give advice with travel plans, but all arrangements, bookings, permits etc, are the responsibility of the client.

For areas requiring special permits, i.e. South Georgia and Antarctica, we will give advice, refer clients to some of the relevant authorities and give environmental guidelines. However, it is the clients responsibility to find out if they need permits from their national authorities (and any other clearances such as visas etc) for their expedition's land based activities e.g. travel to and from ports of embarkation/disembarkation, climbing, skiing, science projects etc.

Pelagic Expeditions will apply for and obtain its own permit as a carrier with the UK Foreign Office.

In the event the client cannot obtain a permit as required by his national authority (or other relevant clearances/documentation) this will not constitute a basis for refund of any deposits paid.

The Possibility of Failure

Although our track record is well established, the possibility of failure and danger is by our definition implicit in an expedition. Otherwise it would not be an adventure!

Therefore we can give no guarantees that any expedition or group will reach its objectives. We will make our best efforts to stick to a client's itinerary as agreed beforehand, but the possibility of modifications because of: weather, the limitations of a small sailing vessel and the skipper's final say on decisions affecting safety, amongst other factors, must be accepted by the client.

Voyaging with Pelagic Expeditions is a true adventure where uncertainty is a key element in defining the quality of your experience. If you are looking for an arranged package, a more guaranteed itinerary and consequently a less intense and personal experience, we would be delighted to refer you to one of the many cruise ship companies that service these areas.

Skip Novak