Delivery Passage from Tierra del Fuego to Cape Town May/Jun 2013 - Including RYA Shorebased Yachtmaster Course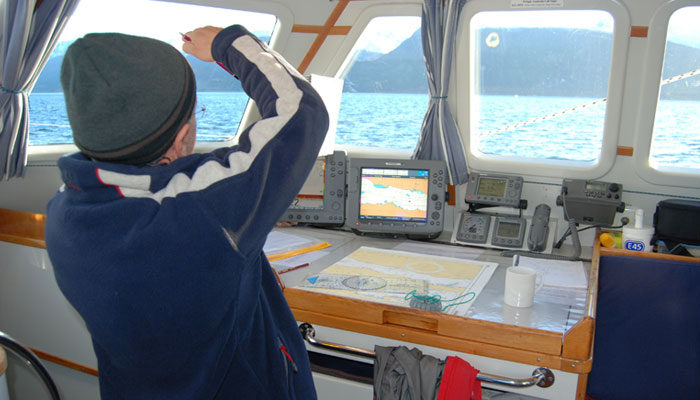 Pelagic Australis will be embarking her crew at Puerto Williams on the Beagle Channel on 11th May 2013. After the 5 day RYA course on shore, the vessel will depart for her transatlantic voyage. This 4500 mile ocean passage is expected to take 40 days or an expected ETA into Cape Town of about June 20th. Including a week's cruise up the Beagle Channel, then a rounding of Cape Horn, stops will also include Stanley in the Falkland Islands and possibly the remote island of Tristan da Cunha, weather permitting.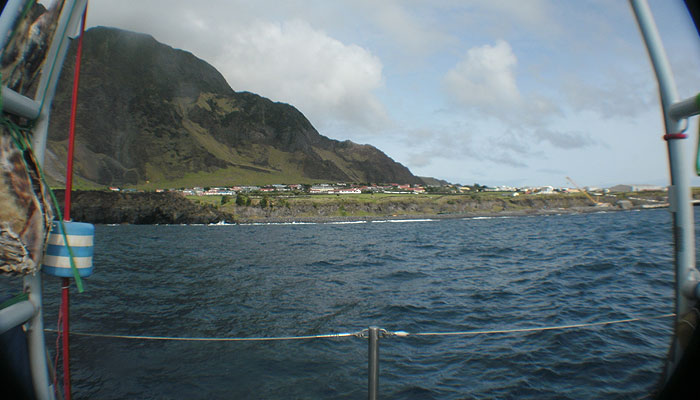 Tristan da Cunha from Pelagic Australis
The focus of the passage is for students to not only study the RYA (Royal Yachting Association) syllabus for the Yachtmaster Shore Based Course, but also to fully experience and grasp every aspect of what it takes to pilot and crew an ocean sailing vessel across the breadth of the Atlantic Ocean. The miles gained en route are over twice that required by the RYA for the license.
Please Take Note: This is a hands on situation and is not a leisure cruise. Crew members will be required to stand a watch throughout, take turns at cooking, cleaning and maintaining the vessel. A reasonable degree of fitness and vitality is necessary for making this an enjoyable experience. In order take part in the RYA course training it is essential that the student is fluent in spoken and written English.
Experience Required: This is not a voyage for beginners. Every crew member is expected to have a reasonable degree of offshore experience to fully benefit from the course, not least of all in having a chance in passing it, which is not guaranteed. An RYA Day Skipper qualification or other equivalent is the level we are looking for. Every prospective crew must submit any qualifications they have, plus a sailing CV in order for Pelagic Expeditions to judge whether he or she is suitable for this specialized voyage. There is no age limit, but we stress again that in order to benefit from this passage and the course, a reasonable degree of fitness and a high level of self motivation is required.
Pelagic Australis is a recognized and licensed RYA training facility. Pelagic Expeditions will provide a qualified RYA Instructor to conduct the RYA syllabus in addition to the vessels skipper and crew who will instruct the students in all else as mentioned in the general syllabus. Click here for details of the syllabus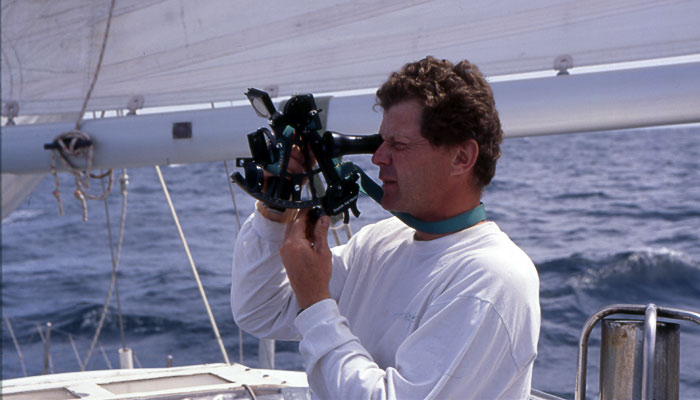 ACCOUNTS OF PREVIOUS TRIPS
1. Download a description of the 2012 Chile to Cape Town trip by by Matt Whitehead, 19 year old gap year student and Hobie champion from Cape Town in pdf form here.
2. View pdf of RYA Magazine article about the 2009 Trip.
3. A former student writes about the 2007 RYA run.
I would like to take this opportunity to let you know that I thoroughly enjoyed the voyage from Punta Arenas to Cape Town. Particular thanks to Stewart and Lawrence who's experience, sailing skills and forgiving attitude made a pretty tough journey both rewarding and enjoyable. Jess needs to be congratulated on her patience and consistent good humour when faced with a number of the crew who would clearly be challenged at home if asked to find the TV remote. The journey was particularly rewarding for myself as it fulfilled a long held ambition to visit the higher southern latitudes, to sail an ocean and particularly to do some meaningful astronavigation. All of these were fulfilled and more. The Chilean fjords were magnificent, to see a string of glaciers plunging into the sea and then spend the evening moored in a hurricane hole feasting on roast lamb and good Chilean wine is the best day sailing I am ever going to experience. The route as far as Puerto Williams was a holiday in itself, chugging up the Beagle channel must bring a lump to any Englishman's or scientist throat, it conjured up a picture of Darwin miserably seasick and crammed in to less space than my berth on Pelagic turning over ideas in his mind that resonated around the thinking world to this day.
The failure to get to Cape Horn only enhanced its reputation, I am glad to have failed in a 50 knot sou'westerly than to have succeeded on a calm day in bright sunshine. I shall however take every opportunity on my future RYA courses to remind my crewmates that I passed my Yachmaster navigation paper anchored at Isla Herschel, 55 deg south, having four hours the previous night on anchor watch in a 60 knot gale gently dragging 85 metres of 16 mm chain toward Antarctica.
The journey to the Falklands gave a hint of what real winter might be like at those latitudes and our arrival in a snow squall with HMS Edinburgh proceeding on patrol into the teeth of a westerly with the back drop of the rugged East Falkland coast was about a dramatic a land fall as I am ever likely to encounter. The 5 days on the islands was a great change of routine and thanks to Russell and Ian we had a great tour of the island with images of the 1982 campaign translated from television and written images to the reality of trudging through peaty swamps or being locked up for a month in a sheep shearing shed.
The ocean passage was a completely different experience, it taught me the different disciplines needed on extended passages, the importance of provisioning and how 10 people can find things not to disagree about when confined to a limited space for 3 weeks. Sighting Tristan da Cuhna, an incredibly remote place, then watch it disappear into the night as it's cloak of clouds lifted but the suns light fading so that she kept her volcanic mid-ocean profile a secret from us.
None of this would have been possible without out a great boat. Pelagic Australis was comfortable, warm, superbly equipped and a joy to sail. Clearly she is a distillation of your many years of experience sailing the worlds oceans and we benefitted enormously.
My one disappointment. I put on a few pounds prior to the trip expecting to quickly lose them in the austral winter and crewing the boat, however thanks to the incredibly high standard of provisioning and cooking I didn't lose and ounce. Many thanks for a memorable trip,
Best Regards,
Ken Barker
27 July 2007
4. A former student writes about the 2004 RYA run:
The prospect of sailing from South America to the UK to me appeared as a fitting end to five months of travels through the Andes, and a perfect way to gain some strong sailing experience, the kind which would make me a fully proficient yachtmaster candidate. The reality was no less fanciful. The skipper, Stephen Wilkins, was a fully qualified RYA training instructor with a wealth of professional offshore skippering experience. Together with the first mate we covered every aspect if the Yachtmaster syllabus, and even moved on to Yachtmaster Ocean and were able to take a more in depth look at subjects that particularly interested us. The boat itself was very well suited to this sort of venture. She was a joy to sail and life on board was comfortable which helped form a strong feeling of camaraderie within the group.
The amount of work needed to keep the boat going came as something of a surprise to me, and there was always something to do if you wanted. Whether it was baking bread in the galley, or performing repairs on the engine or up the rig, each job added to my knowledge on how to run a boat well.
It wasn't all work though, so we had plenty of time to have a laugh and simply enjoy each others company. One of the great things about being in such close proximity with people for any length of time is that you start to learn from each other, often things completely unrelated to boats. We had a doctor on board who taught me a great deal of practical first aid, such as how to install a catheter which I sincerely hope I will never have to do.
There are plenty of amusing stories we will all have as each person provided his fair share of farcical comments or actions; "I simply don't believe it, someone has dumped a container load of used condoms in the ocean," someone said whilst pointing at the Portuguese men of war, bobbing in the breeze. As you can imagine, that one lasted the rest of the trip. With all that said, it was a fantastic trip, which I shall look back on with joy and pride that I had accomplished it.
Richard Malone
Gap Year Student
Malone_richard@hotmail.com

5. 2010 Delivery Trip and RYA Course Click image for end of 2010 season delivery and RYA shorebased course gallery. Pictures Miles Wise and Laura Parish.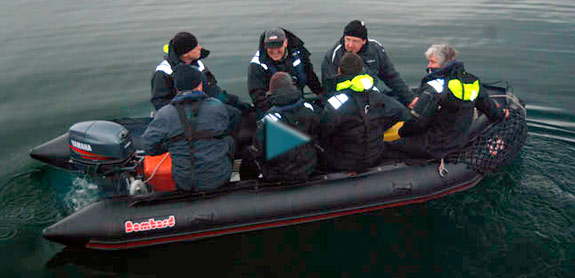 TIMING AND ITINERARY
Students should arrive in Puerto Williams Chile (via Santiago or Ushuaia) a few days before the official start date on 11th May 2013 in order to help prepare and provision the vessel. We can recommend hostel or hotel accommodation for those nights prior to the embarkation date, and meals on those days will be the responsibility of the students.
They will then move on board on May 11th and begin the 5 day RYA course in the classroom of the museum in Puerto Williams. On or about May 17th, Pelagic Australis will depart Puerto Williams and head west down the Beagle Channel. Several stops along the way (planned or not depending on the weather!) are envisaged in order to visit some of the spectacular anchorages and ice filled fjords that strike into the Darwin mountain range. After several days in the channels the vessel will clear from Chile at Puerto Williams and then make a dash for Cape Horn.
If the weather holds fine a landing will be attempted and then it's offshore for 350 miles to reach Stanley in the Falklands. After two days in port, offshore again for Cape Town, 4000 miles away. The remote island of Tristan da Cunha is along the track at 40 degrees South and if the surf off the open roads is reasonable a landing will be attempted for a rare visit to this British outpost, largely populated by descendents from ship wrecked sailors of old.
On a good day, Table Mountain can be seen from 50 miles offshore and our ETA is expected there about June 17th 2011. Cape Town – Tavern of the Seas!
VISAS AND TICKETS
Crew must make sure they have visas if required for Chile, Argentina (in case) and South Africa. Photocopies of these visas and proof of a return ticket out of South Africa will be required by Pelagic Expeditions. It is essential that you have at least 2 clear pages in your passport BEFORE entering South Africa.
COST
RYA Delivery per person 8,200 GBP cost includes all course materials for the RYA Yachtmaster Shore Based Course This cost includes:
Provisions while on board ·
Use of all navigation and sailing equipment on board ·
Use of safety equipment including lifeharness and PFD ·
Use of Inmarsat communication system on board ·
All port fees and local taxes for the vessel ·
Fuel for the vessel
Not included: ·
Travel costs to point of departure and arrival ·
Meals or entertainments ashore ·
Cost of Inmarsat communications ·
Cost of RYA practical assessment after the delivery
SYLLABUS
Click here for details of the syllabus
EQUIPMENT

Equipment List 2 - For the Atlantic Deliveries (which include the RYA course with the Beagle Channel cruise) and short cruises in the Falkland Islands in high summer.

Please e-mail Skip Novak to reserve a place